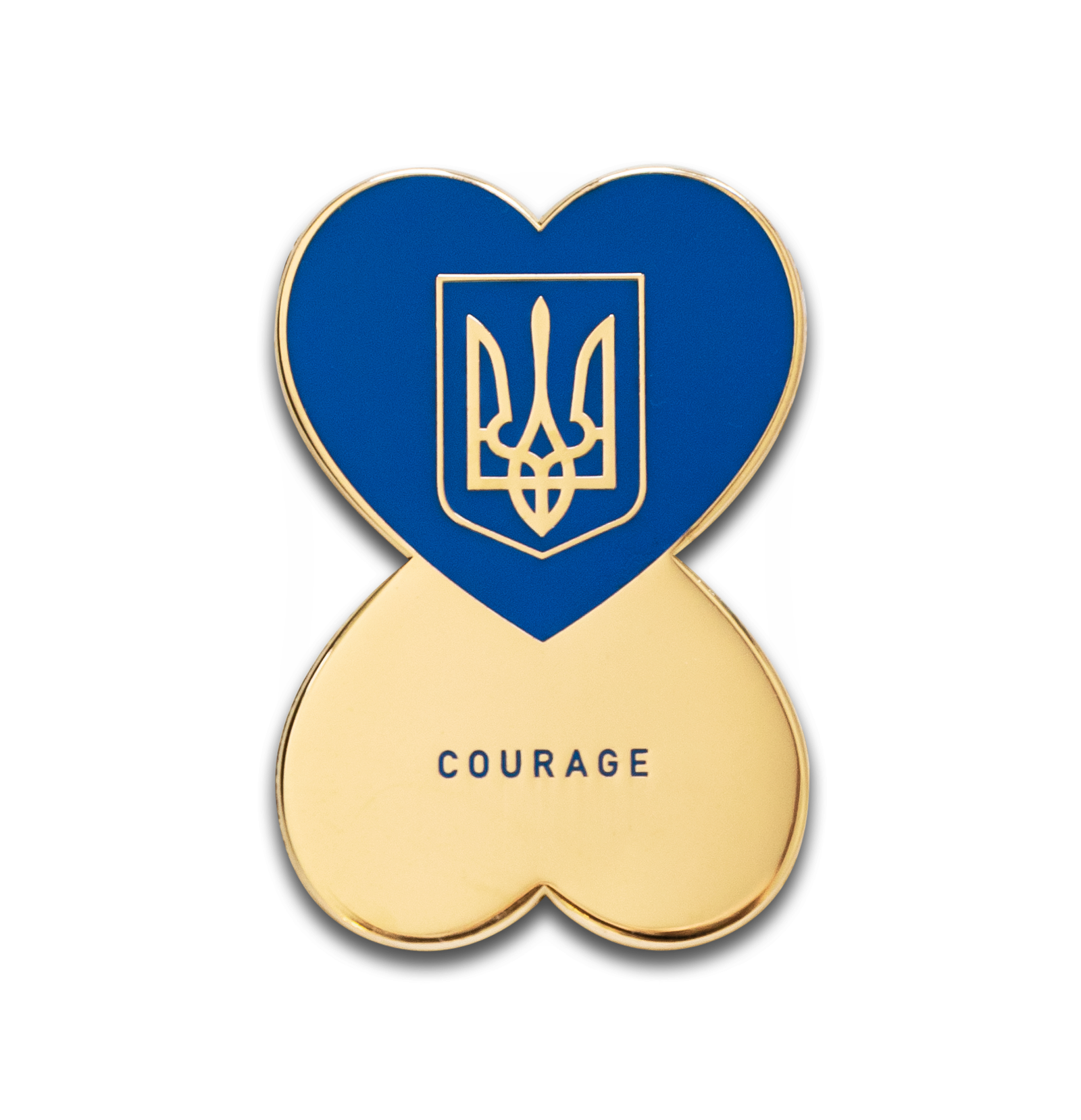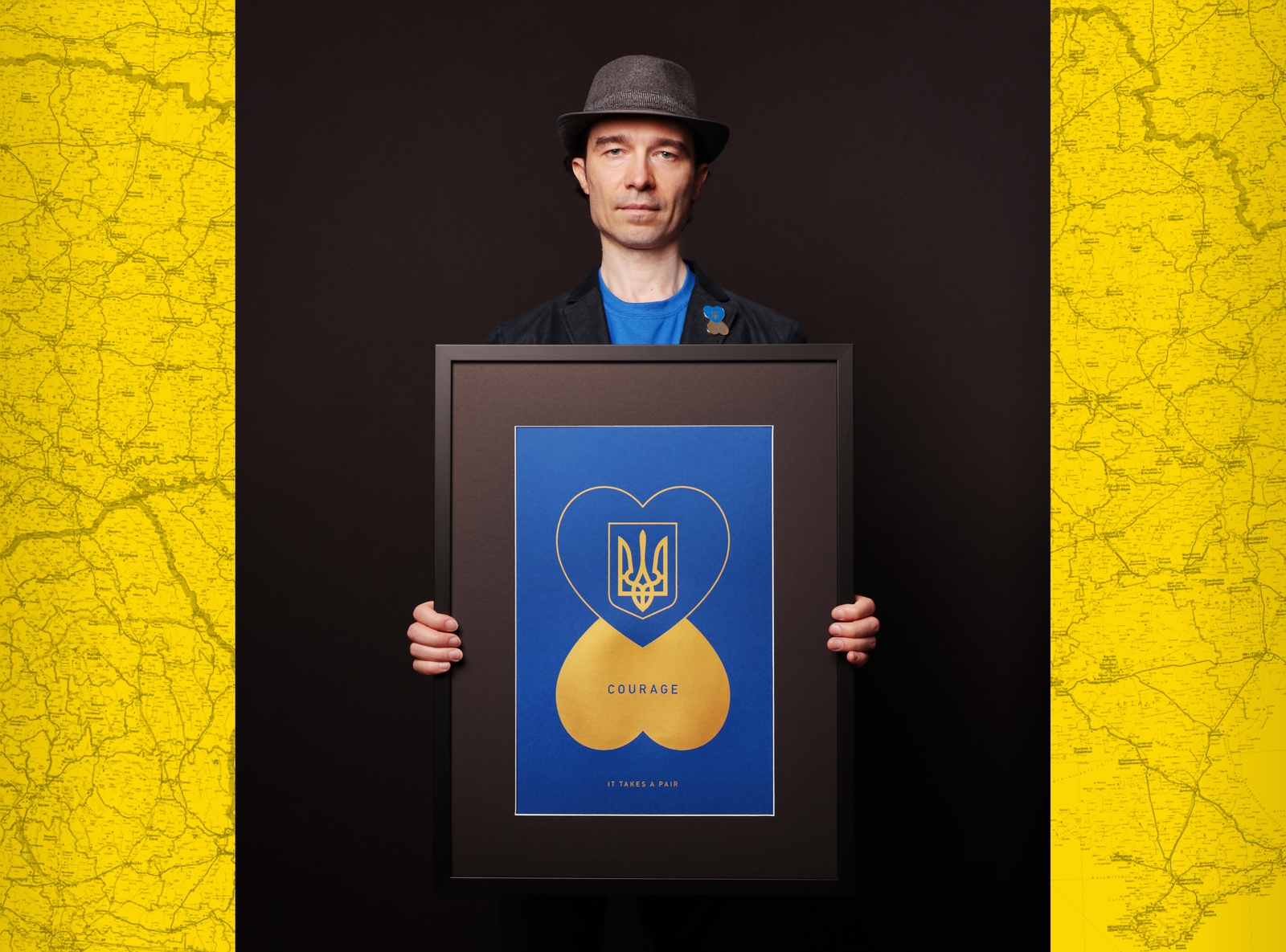 IT TAKES A PAIR
When Russia attacked Ukraine on February 24, 2022, not only did it unjustly invade a sovereign country, but it also violated principles of the civilized world, built upon mutual trust, stability and cooperation.
Many believed that it would be a matter of weeks until Ukraine was eventually overpowered by a bigger invading nation. But the world was quickly galvanized by the immense courage and the fighting spirit of the Ukrainian people in the fight for their land and national identity. They were not going anywhere, but forward and into the battlefield.
Moved and inspired by the Ukrainians' fierce and patriotic love for their country, I created a symbol, that to me conceptually captured what I was witnessing in the news reports. The art is in the form of Hard Enamel Pins and Screen Prints. To help support the country in these dire times, 50% of the proceeds will go to trustworthy charities that are working to help Ukraine and its people to survive, and eventually thrive.
Benefiting Organizations are:
UNICEF
Razom For Ukraine
World Central Kitchen
Thank you for your support!
____________________________________________
The "Courageous Heart" Screen Print: 12" x 18"
Headline: COURAGE. Subhead: IT TAKES A PAIR.
Archival Gmund Royal Blue 111lb Card Stock, with archival Gold ink. Limited Edition of 15, and 3 varied Artist Proofs. (Artist Proofs are the collection of the artist – Not for Sale) The art is signed, numbered, and dated on the back. Frame is not included.
$250
The "Courageous Heart" Hard Enamel Lapel Pin: 1.2" x 1.8"
Limited Edition of 250. Stamped on the back with name, year, edition. Comes with individually numbered backer card with the artist's statement. Single post with military clutch.
$20
IMPORTANT! For optimal reliability, please utilize a desktop computer when ordering. Several purchasers experienced inconsistent results with mobile devices. Should you encounter any issues, feel free to reach out to me directly via the form below, and I will ensure the fulfillment of your order.
Free shipping within the United States of America. For International collectors, please reach out through the contact form before placing your order, to determine appropriate shipping rates to your global destination.
Join the Project!


ABOUT THE ARTIST:
TIMUR is a New York-based American multidisciplinary artist. He was born in Uzbekistan, and immigrated as a teenager to New York City, where he was accepted into the acclaimed Fiorello H. LaGuardia High School of Music & Art and the Performing Arts, majoring in Fine Art. Upon graduation, he attended School of Visual Arts, with a focus on Graphic Arts and Advertising. The practice of fusing Fine Art aesthetics and Design principles has shaped a unique perspective in how he approaches his subject matter.
His areas of interest are centered around the concepts of Time, Place, History, and Love. He depicts issues facing the contemporary world through the use of Photography, Graphic Iconography, Painting, Sculpture, and Mixed Media.
To learn more about TIMUR's work, please visit his website or follow him on social media. Explore the links below.